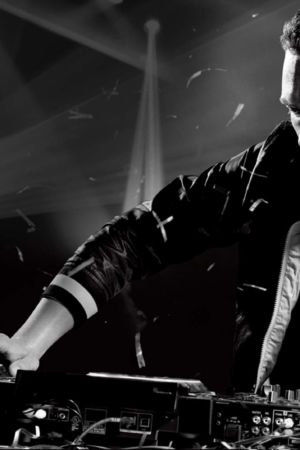 Tiësto
Tiësto is a name that no longer needs an introduction. His name is synonymous with the best of electronic music, and while he is already considered an icon that has not stopped him from continuing his work as an innovator. The Grammy-Award winner has laid down the groundwork for what it is to be a modern-day producer/DJ and is responsible not only for some of the best electronic dance music of all time, but also for inspiring a generation of up-and-coming young artists.
Breaking down barriers and shattering records, Tiësto has racked up the titles to prove his stature. In addition to being nominated for two Grammy's and winning the award for the first time in 2015, he has been named #1 DJ by Rolling Stone, voted "The Greatest DJ of All Time" by Mixmag, ranked the #1 DJ in the world three times by DJ Mag, and was recently presented with the Edison Pop Oeuvre Lifetime Achievement Award (an honor he shares with David Bowie, Quincy Jones and U2 among others).
After spending decades conquering the house and trance worlds with countless singles and albums, the superstar producer led the charge in helping electronic music crossover into the mainstream with his last album, A Town Called Paradise in 2014. The record saw Tiësto expanding his musical horizons, and in doing so, capturing the attention of the world in a way he had never done before. His single "Red Lights" is now certified gold in the United States, Sweden and Canada, while "Wasted" with Matthew Koma recently went platinum in the United States and is his highest-charting release to date. The album was a taste of what was to come, and in just the last year or so, Tiësto has dropped new tunes with the likes of The Chainsmokers, Martin Garrix, and pop sensation Natalie La Rose.
These types of collaborations are nothing new for Tiësto, who believes in passing along his success. He has always been one step ahead and actively worked to usher in the next big thing, whether it be a song, a performance, a company, or even another artist. For years now, he has been helping up-and-coming acts in the electronic world find their way with his record label, Musical Freedom. He has been there to help usher in now well-known names like Martin Garrix and Oliver Heldens, to name a few. Aside from his label, he also took part in 7Up's DJing competition "Your Shot." This unique competition gave aspiring DJ's the chance to learn the craft and the opportunity to perform alongside Tiësto at Hakkasan and Wet Republic in Las Vegas.
At this point in his career, Tiësto has toured the world countless times, and there are more festivals, venues, and stages that he has played than ones he hasn't. He has performed for millions at Ultra, Coachella, Tomorrowland, TomorrowWorld, Electric Daisy Carnival…and that is to say nothing of the innumerable clubs that he frequents as a headliner. He is one of the elite few DJs in the world that can control a residency in Las Vegas, where he plays at Hakkasan and Wet Republic—the best club and pool party respectively in Sin City.
When it comes to playing shows, Tiësto says that to this day, he is still "addicted to the feeling of DJing." He loves the interaction with the crowd and the feeling of being able to surprise them. The DJ added that playing live encourages him to challenge himself to make better music and to be a better DJ.
In spite of his hectic tour schedule, residency, and focus on creating new music, Tiësto has not forgotten his roots. He has been a champion of the DJ mix for decades, and in the past few years, his Club Life compilations have become something to look forward to for those in the dance world. 2015 saw him release the most recent edition of the collection, Club Life: Volume Four, New York City, which celebrates the city that never sleeps. The name of the series is shared with the DJ's popular Sirius XM channel, which has become a go-to for anybody looking for great, breaking dance music. In addition, his weekly radio show is broadcast on 350 stations in 77 countries and has over 35 million listeners.
Tiësto also continues his work as an expert remixer, his talents sought out by some of the biggest names in the world. He has been brought on to rework smash hits for the likes of Beyoncé, Coldplay, Kanye West, Sam Smith, Ellie Goulding, David Guetta, Major Lazer, Calvin Harris, and many more. In 2015, he won his first Grammy Award for his massively popular remix of John Legend's "All Of Me."
Tiësto is keeping busy outside of the studio and off the stage as well. He has become one of the few leaders in the music space that has been able to transition their influence and savvy to other industries. He is an important advisor to tech startups like Splice, Dubset and Doppler, helping to steer the trajectory of success that all three of these companies are enjoying. Even as investments in the music tech world rise, few artists have gotten so involved in creating the changes that the industry is looking for.
Most recently, Tiësto released his completely re-designed mobile app, where fans can consume all things Tiësto including his extremely popular podcast. He has also leant his name and style to a variety of brands. Through current collaborations with T-Mobile and Budweiser and other soon to be revealed efforts in the fashion space, the DJ is helping bring dance music culture to more people than ever before.
In the past two decades, many artists have come and gone but Tiësto remains not only one of the world's most prolific and enduring artists, but one of music's top innovators. 2016 will see no deviation from this norm. Even after all that he has accomplished, Tiësto does not see his work as being done. "DJing is my life," the man isn't afraid to admit. But more than that, "It's a lifestyle."