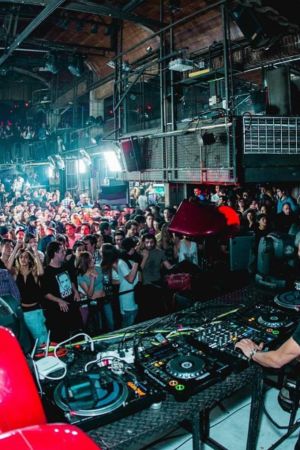 Satoshi Tomiie
Talk about house music and its impossible not to talk about Japan's Satoshi Tomiie. Since starting out in the late 80s he has been one of the scene's most important and influential figures who has crafted endless dancefloor anthems as well as turning his hand to more pop inclined work, headline DJ sets around the world and all the while staying as relevant as anyone in the game. And it all started in Tokyo clubs during Satoshi's youth, where he was forging himself a great reputation as a talented DJ in the early days of house.
Also a lifelong student of jazz and classical piano, Satoshi soon started producing and had a huge impact right from his very first record. The debut single 'Tears' – co-produced in 1989 with Chicago's 'Godfather of house' Frankie Knuckles – was an instant club hit and is today considered one of house music's most important moments. Soon after, Satoshi relocated to New York City to get fully involved with the exciting early 90s electronic music scene. It immediately paid off, and because he was an accomplished musician as well as dexterous DJ, Japanese composer Ryuichi Sakamoto (of Yellow Magic Orchestra fame) asked Satoshi to join him on his tour, and the rest is history.
Since then, this auteur has forever been honing his musical ability before retuning to the studio once more. Throughout his career, international stars likes U2, Mariah Carey, Photek, Simply Red and David Bowie have all been remixed by Satoshi who has an ear for groove like few others in the world today. Of course, all the while Satoshi has continued to release seminal albums and tracks like Full Lick and Love In Traffic, records that showcase the man's unique take on dark and twisted electronic rhythms, tortured vocals and generally hypnotic sounds.
Satoshi runs the well-respected SAW.RECORDINGS imprint with Hector Romero, and together the pair have continued to refine and reinvent the Chicago and New York house blueprint for more than a decade by championing the up and coming who are now established international talents of acts like Nacho Marco (whose recent Blackmail EP received widespread acclaim), Guy Gerber, Audiofly, Luca Bacchetti, Doomwork, Tuccillo and Guti. Like Satoshi, the philosophy of Saw is about quality underground dance music, not quantity.
Having taken something of a time out to rebuild his studio, Satoshi is now back with a vengeance. This year will see Satoshi release a plethora of new projects, including a collaboration between Satoshi and Brooklyn's Joeski (called Satoeski), a remix of Stelios Vassiloudes & Tomomi Ukumori's 'Green In Blue' on Bedrock Records, collaborations with Matthias Vogt and Iori Wakasa (an up and coming DJ from Tokyo), and finally a new artist album and singles from Satoshi solo.
Satoshi hasn't slowed down on the DJing front either, and continues to play week in, week out at some of the best clubs in the world such as Womb in Tokyo and Pacha Buenos Aires. His Pop Up Party series, that features Satoshi playing all night at small, intimate clubs is also proving to be popular. Recently Satoshi launched his own podcast series that sees Satoshi showcase the music he is into currently.
This year, is set to be yet another landmark in Satoshi's career, as it will see the release of his new artist album, no doubt full of the electronic delights that we have come to expect from a man who is an essential voice in the global house music conversation.