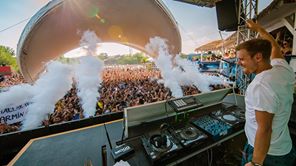 ARMIN-VANBUUREN
Born in Leiden, The Netherlands (December 25, 1976) to a musical family, Armin indulged his passion for music from a young age. He spent all the money he earned from his paper route on records. His mom won a computer when he was 10, piquing Armin's interest in technology. "So as a little nerdy kid I was writing my own basic programs and learnt about the technology from there." Armin progressed from making low-profile mix tapes for friends to higher profile mixes when he discovered experimenting with different sequences on his computer through his uncle. "I was so stunned by what I saw him doing on the computer that I got addicted to creating music right there and then!"
"I loved dance music immediately – this great rebellious sound that was so different to the 'beautiful' songs of the years before." Armin cites electronic pioneer Jean-Michel Jarre as a major influence, as well as Dutch producer Ben Liebrand, who later mentored him in his mixing and producing.In the early days, Armin thought it was wise to have a back-up plan, and so he studied for a law degree. The final year of his course was inevitably stretched out as he juggled his studies with his increasingly hectic schedule; his rise to fame included lots of productions and remixes, as well as playing in front of packed clubs every weekend. It took him three years to graduate, but his determination made him succeed.
Despite having a Master's degree in Law, the main ingredient in Armin's life has always been music. Armin: "I see it as my responsibility to promote trance as a genre, and I want to support it in every way I can. Music should connect us. As long as the music keeps evolving like it is, I will continue and I don't see any reason to slow it down."THE DJ
No matter how many hours Armin van Buuren has travelled to get there, as soon as he enters the DJ booth, the Dutchman puts his full focus on the music, the crowd, and how those two will combine. Once the beats of his first record have kicked in, the room lights up and chanting starts to fill the air. To witness a set by Armin van Buuren is to be blown away — to lose yourself completely in the music and become one with the people around you. Mixing seamlessly, he has created his own sound and style, making his DJ sets a truly unique experience. He unites millions, not only through the gigs in his challenging schedule, but also through his 'Armin Only' and 'A State of Trance' world tours.
His busy life as a DJ has inspired countless people both personally and professionally. In 2009, Dutch author Coen Bom presented his on-the-road biography of Armin, called 'Eén op één' / 'Armin Only', in which he reported on the hectic life of Armin and tried to find the secret behind the grand success of the humble Dutchman. In October 2012, the official documentary 'A Year With Armin van Buuren' was released, in which Armin was followed during an important year in his life, offering a unique look behind the scenes and inside his personality. Again and again, his life as a superstar DJ continues to inspire others.Armin has had the privilege of performing at some of the world's biggest and best festivals, clubs, events, and shows. One of the highlights of his career was Armin's performance for the newly crowned King and Queen of The Netherlands in 2013, Willem-Alexander and Máxima. Together with the Royal Concertgebouw Orchestra, in front of the monarchs and 15,000 fans, he performed both 'The Bolero' as well as an orchestral version of the title track from his 'Intense' album. During the 'Koningsvaart' (a special, cultural boat-trip through the city of Amsterdam), the King and Queen surprised both the crowd as well as Armin by getting on stage and dancing along with him.
Without question another memorable highlight of Armin's career was his DJ set at the Museumplein in Amsterdam in July of 2010, during the ceremonial honoring of the Dutch national soccer team. Even though the national team lost in the FIFA World Cup final, they partied like they were the absolute winners with a crowd of 200,000 strong.
In 2013, Armin's career hit another milestone when he was the first solo dance artist to play in Madison Square Garden. The event was completely sold out, representing another crowning achievement for the DJ.After the 2013 summer season ended (along with his residency at the world's biggest club, Privilege in Ibiza), Armin kicked off a new 'Armin Only' world tour based on his 'Intense' album, in collaboration with theatre director Jos Thie. More than 33 dates were set, with shows landing in cities such as Kiev, Mumbai, Saint-Petersburg, Helsinki, New York, Toronto, Mexico City, Sydney, Johannesburg, and more. With the 'Armin Only' tour, Armin brought out a unique and exclusive show format, which unfolded like the many layers of his 'Intense' album. In total, more than 500,000 visitors attended, spanning 5 continents. A 'Road Movie' series was also created, documenting behind-the-scenes footage of the entire tour as it took place.
In 2014, Armin began a highly successful weekly residency at the famous Ushuaïa Beach Hotel in Ibiza, playing every Thursday night from June 26th to September 11th alongside top DJs from the Armada Music roster. After the residency, he released a compilation entitled 'A State of Trance at Ushuaïa Ibiza' to commemorate the season.
As if to underline the success of the residency, Armin returned to the Ushuaïa Beach Hotel a year later for another 'A State Of Trance at Ushuaïa, Ibiza' summer. His performances in the center of the Ushuaïa pool were met with widespread passion and enthusiasm amongst his fans, subsequently leading to the release of the second volume of his Ushuaïa compilation series: 'A State Of Trance at Ushuaïa, Ibiza 2015'.n January 26th, 2016, Armin van Buuren brought elation to his worldwide fan base by announcing the first two dates of his brand-new Armin Only Embrace world tour, to which even more dates were added later on as announced live at A State Of Trance Festival Utrecht on February 27th. So far, Armin Only Embrace will bring a spectacular offering to the cities of Amsterdam (The Netherlands), Gdansk (Poland), Dubai (UAE), Sofia (Bulgaria), Minsk (Belarus), and Mexico City (Mexico). More destinations are to be announced soon